Southbound (SOBO) – Maine to Georgia
Thinking of a Southbound thru-hike? We want you to be successful, and for that reason we recommend starting in Maine only if you have considerable experience backpacking on the A.T. in Maine or New Hampshire or similarly challenging terrain.
What can I expect on a Southbound Thru-Hike?
Extremely difficult terrain to start. A southbounder or "SOBO" begins with the hardest part of the Trail first. Unlike starting in other more moderate sections of the Trail, you do not have a chance to get your trail legs under you before hitting the steepest mountains. Katahdin, the mountain you climb on your first day, is arguably the hardest climb on the A.T. It features more than 4,000 feet of elevation gain, the greatest sustained ascent on the entire Appalachian Trail. It is a scramble. Expect to use your hands as you climb over steep boulders and ledges above treeline. As you head south into the Hundred Mile Wilderness, the mountains may seem small because of modest elevations, but they are some of the most rugged in Maine. Expect the footing to be on rocks, roots and mud rather than a smooth footpath.
Swarming insects. If you start in June, you will encounter insects. The most infamous are Maine's black flies, which are out in swarms at the end of May and the beginning of June. They hatch in the cold clear streams and are an indication of healthy and clean water, but their sting hurts and their bites itch for days. Mosquito season lasts from May through the beginning of July, but there can be hatches later in the season depending on weather. Deer flies, gnats and horse flies make more local appearances through the early summer months. If you hike in Maine in early summer, a headnet is highly recommended.
Ticks carrying Lyme disease and anaplasmosis are being found in increasing numbers in Maine as well (though are present trailwide. Be sure to take educate yourself on tick-borne diseases and how to protect yourself here.
Formidable stream crossings. The majority of stream crossings in Maine do not have bridges. This means you have to ford. At times streams can run swift and deep. See here for tips on fording. Water levels are highest in May and June when the snow melt is still occurring. The water is also very cold during these months, especially in May. River depth also spike after thunderstorms or lengthy rain events during the summer and fall.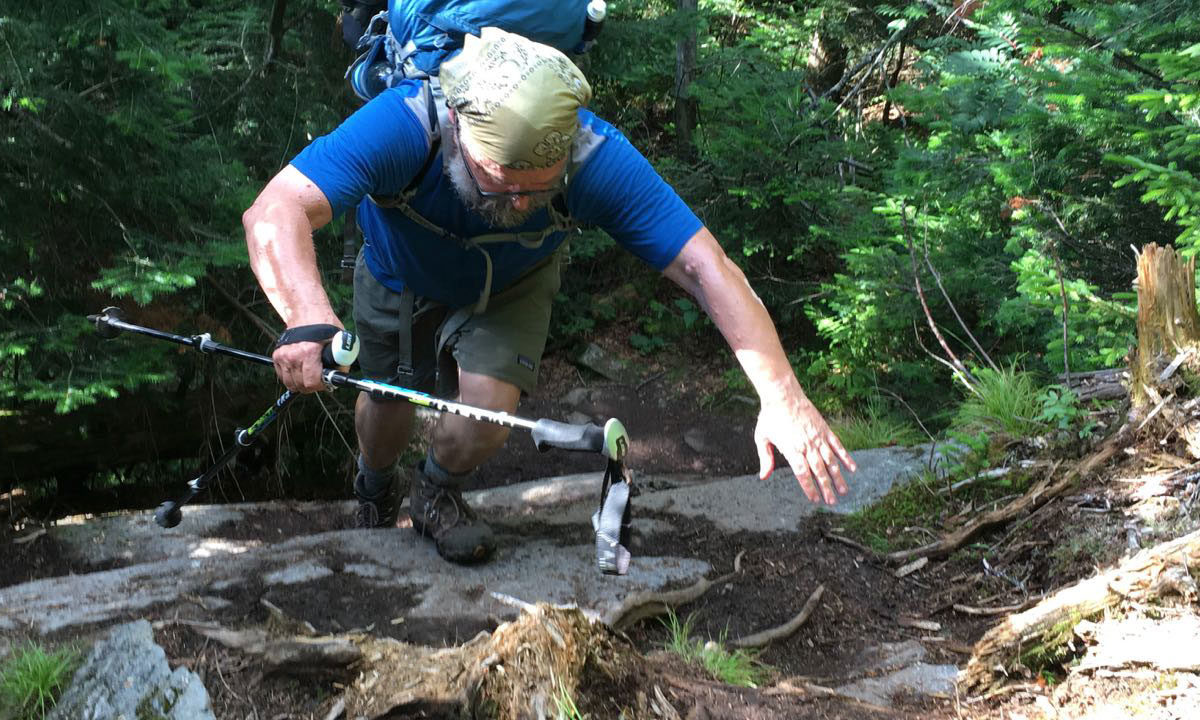 Challenging weather. Weather in Maine can run the gamut through the summer months. Often times, there can be quick temperature swings from hot and humid to cool and brisk. Many years, there are still pockets of snow in the high mountains in late May. June often sees consistent rain, while severe thunderstorms are more common later in the summer, but both can happen at any time.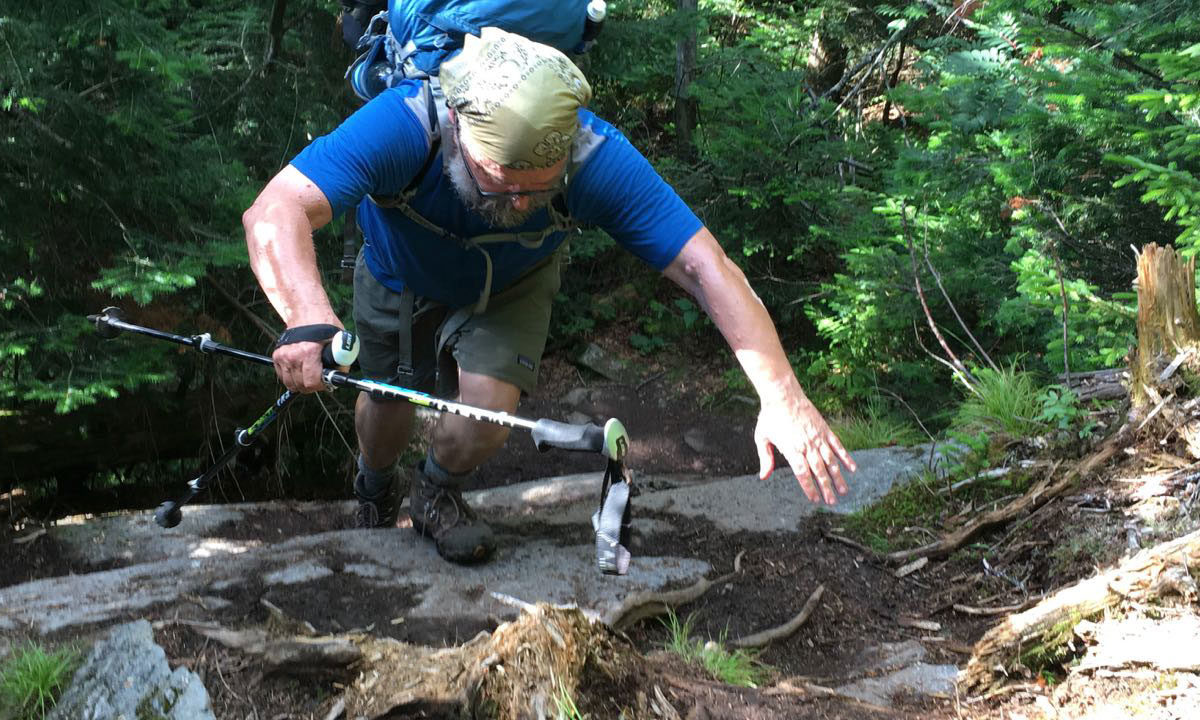 Early drop-out rates are high. Sadly, a relatively high number of SOBOs drop out before even reaching the summit of Katahdin, or in the first few days. The completion rate of SOBOs is lower than for other categories of hikers.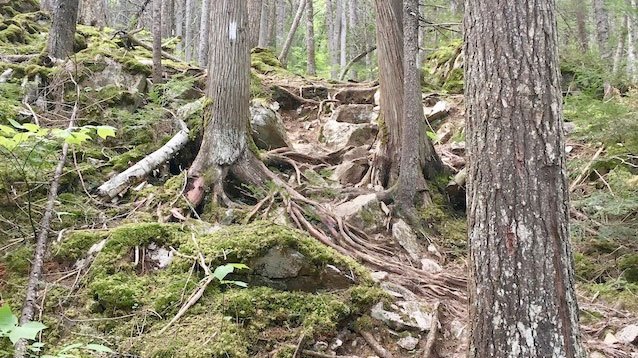 You can't reasonably start until June, losing prime spring hiking time. We do not allow SOBOS to register thru-hikes until June 1 because Katahdin trails may not be open until this date. Conditions in Maine are poor in June; the famously dedicated volunteer trail maintainers aren't able to effectively access trails to start clearing the winter's blowdowns until late May or June. But, to wait until July when conditions improve to start a southbound thru-hike means adding another month of winter hiking in the high-elevation mountains at the southern end of the Trail. While waiting to start, you're losing out on hiking at a time is one of the best months to hike in every state from Georgia through the mid-Atlantic.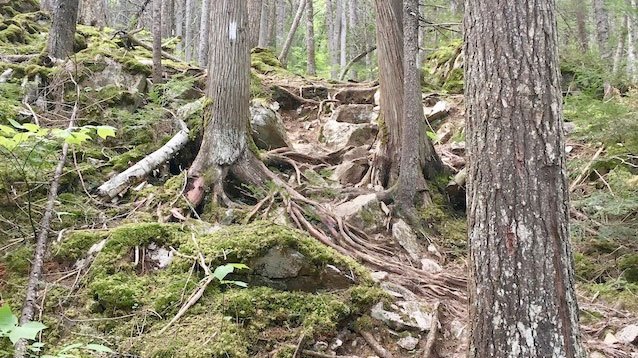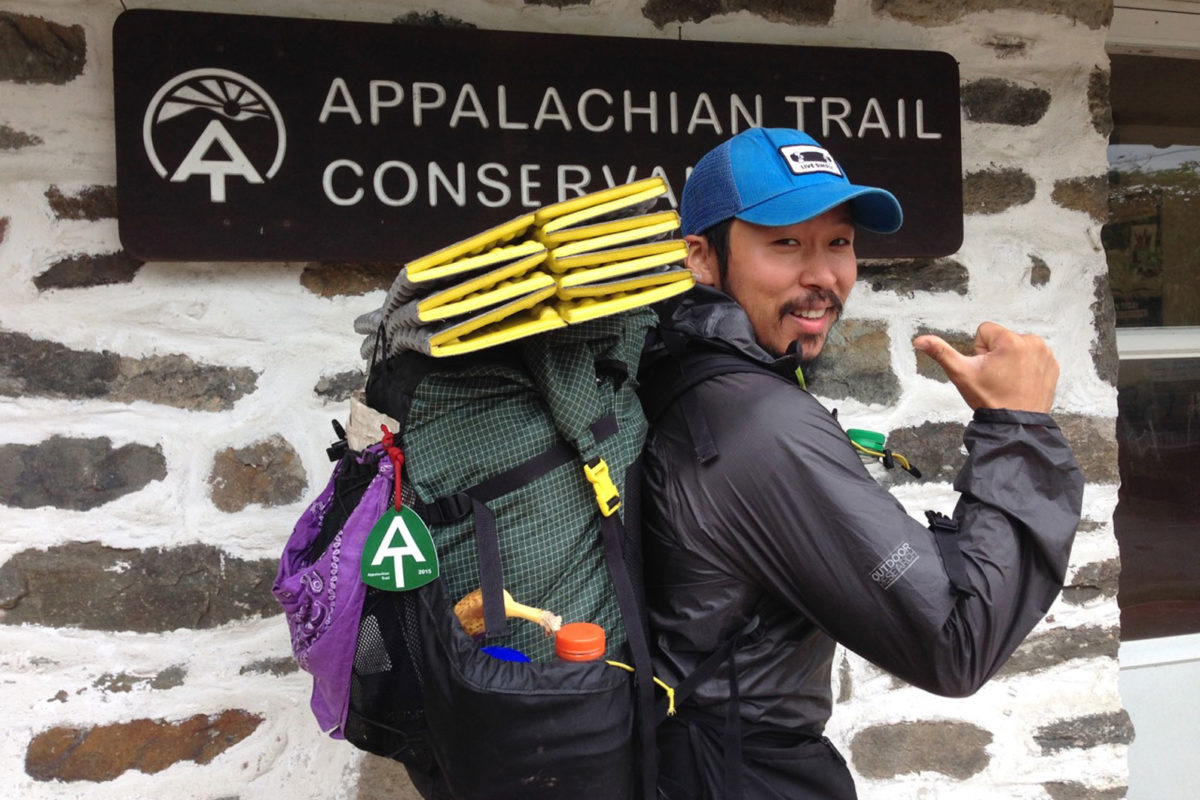 A.T. Hangtags
Hangtags distributed by the Appalachian Trail Conservancy (ATC) are frequently seen dangling off an aspiring 2,000-miler's pack, marking their intent to traverse the entire Appalachian Trail (A.T.).
When should I start a southbound thru-hike?
The most popular times to start a thru-hike is in June or the first half of July. Keep in mind that the earlier you start in this window, the poorer conditions are in Maine, with high water, black flies, more mud, and downed trees from the previous winter. Also keep in mind that the later you start, the longer you will encounter winter conditions in the high mountains of the South (with elevations exceeding 6600 feet) toward the end of your hike. Chances of encountering deep snow and ice requiring special gear toward the end of your hike are also greater. You can expect snow and sub-freezing temperatures as early as the end of October. The window of favorable hiking conditions for a southbound thru-hike is only 4-5 months; the average thru-hike time is almost 6 months. Southbounders must be very fit and disciplined, plan the timing of their hikes well, and maintain a high mileage average with few days off, or be prepared to face conditions at one or both ends of the Trail due to weather and other seasonal issues that make these sections more dangerous than normal.
We do not recommend starting a southbound hike before June 1. You cannot start your hike and climb Katahdin until Baxter State Park announces the Hunt Trail open (as the A.T. in the park is called); this date is usually late May but can range from May 15 to well into June. Snow may linger on the A.T. in other parts of the A.T. in Maine in May. During snowmelt, which continues to the end of May in high elevation areas, stream crossings are extremely dangerous due to cold and high water, which can rise rapidly and be fast flowing. Furthermore, hiking during mud season can damage the trail because of unstable tread conditions due to the freeze/thaw cycle.
Tips For Prospective SOBOs
Savor Maine's wild beauty. Maine is often cited as a thru-hiker's favorite state. In some respects, it is the wildest, most remote section of the entire Trail. It also has more lakes than almost the rest of the Trail combined. Some of the most thrilling wildlife encounters of the entire A.T. are likely to happen here: seeing a moose or hearing the haunting call of a loon. Don't rush through this wonderland.
Don't expect a great deal of solitude. Although far fewer thru-hikers choose to do a SOBO hike than a NOBO hike, Maine and New Hampshire are popular for dayhiking and section hiking. Camp groups are also common on the Trail during the summer months. The famed "100 mile wilderness," though far from towns, is much more accessible and popular in summer than its name implies. Campsites can be crowded.
Be prepared for hunting season in the fall.Hunting season starts in September and is allowed along many parts of the Trail. In fact, through Pennsylvania the A.T. passes through game lands managed primarily for hunting. Hikers should plan to wear fluorescent orange that is visible 360 degrees and take other precautions. See our hunting page for more tips.
Be prepared for winter conditions in the high mountains of the South starting late October. Blizzards bringing snow, potentially deep, and frigid conditions with wind chills below zero can occur as early as late October in the high-elevation mountains of Virginia, Tennessee, and North Carolina. Winter gear is a must. Expect to switch to a warmer sleeping bag, warmer clothing, boots that can handle snow and slush, and tall gaiters to keep snow out of your boots.
In-depth tips on logistics for starting a southbound thru-hike.
Consider different thru-hike start locations
To avoid the extremely difficult conditions at the start of your hike as well as to give yourself an earlier start, consider a different thru-hike plan. If you're eager to get going in May, consider starting in Harpers Ferry, West Virginia. Hike northbound to Katahdin, and hike the southern half in either direction. You can also start in Georgia in May, after the crowds have thinned, and plan on doing a "leap" or a "flip" later to extend the time you have to complete your hike. If you plan to start in June, consider a thru-hike starting in Delaware Water Gap, PA (at the New Jersey border) or at Pawling, New York . Hike north for the first half, then hike the southern half in either direction.
A typical southbounder, starting in June or July and finishing in December, can expect:
Starting with Katahdin, a mile-high mountain that requires scrambling and hand-over-hand climbing; with almost half of the climb on exposed terrain above treeline.
Shortly after, entering the "100-mile wilderness" which has no resupply–making your pack very heavy. Novice backpackers should be carrying 10 days worth of food.
Black flies, muddy trail, and difficult stream crossings in Maine in June.
About a month of hot, humid weather in the mid-Atlantic states.
Fall colors in Virginia.
Hiking through hunting season from September onward.
Cold weather during last month or two of the hike, with snow likely. Some years snow may be deep; expect to encounter low temperatures dipping into teens or single digits at some point in November.
A small number of other southbound thru-hikers for companionship.
Recommendations and considerations
There is a narrow window of favorable weather in which to complete a southbound thru-hike. Most years, the section of the A.T. on Katahdin does not open until the very end of May or the beginning of June. Although better conditions in Maine come later in the summer, the days are shorter. Cold temperatures, snow, and ice can occur in late October in the high mountains of the southern Appalachians.
A word of caution
A southbound thru-hike is recommended only for experienced and fit backpackers who are looking for an extreme physical challenge right at the start. A southbound thru-hike starts with the most difficult climb on the entire A.T. (Katahdin), the most remote section of trail (100-mile wilderness), and the two most challenging states of the Trail (Maine and New Hampshire). Through 2017, fewer than 2,000 people had reported completion of the A.T. southbound.